Details:
Name
Allocate Software
Categories
UK&nbsp, Webinar
Invest in and support your people: Building a financial wellbeing programme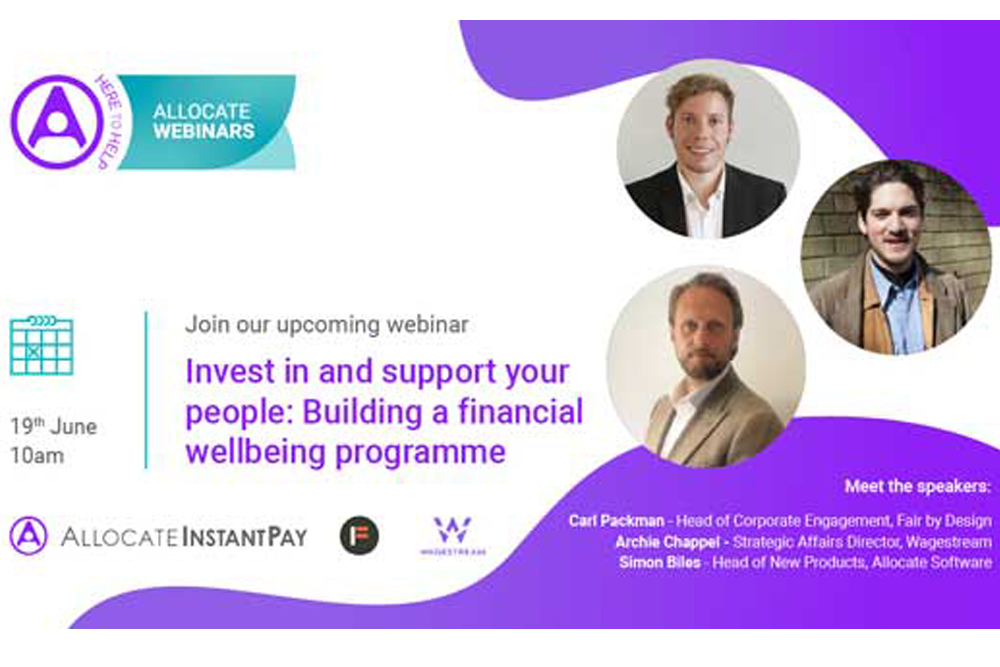 Join our Here to Help webinar that looks at how organisations can implement a financial wellbeing programme that aims to support people's financial needs, reduces stress and improve employee engagement. All of which ultimately impact the care delivered to patients.
Join this webinar led by Allocate with guest speakers from Wagestream and Fair By Design – a fund and campaign to make employed people's lives easier through better financial products and services.
Meet the speakers
Carl Packman, Head of Corporate Engagement, Fair by Design
Archie Chappel, Strategic Affairs Director, Wagestream
Simon Biles, Head of New Products, Allocate Software
The webinar will take you through:
Practical tips on how to set up a financial wellbeing programme in your organisation
Evidence that financial wellbeing helps lower stress and improve engagement of your people
Discover how other organisations across the private and public sector have built financial wellbeing programmes that are delivering results
Understand what really helps the financial wellbeing of people.
We'll also discuss how UK healthcare organisations can get free access to our financial wellbeing programme, InstantPay, until 31st August 2020.